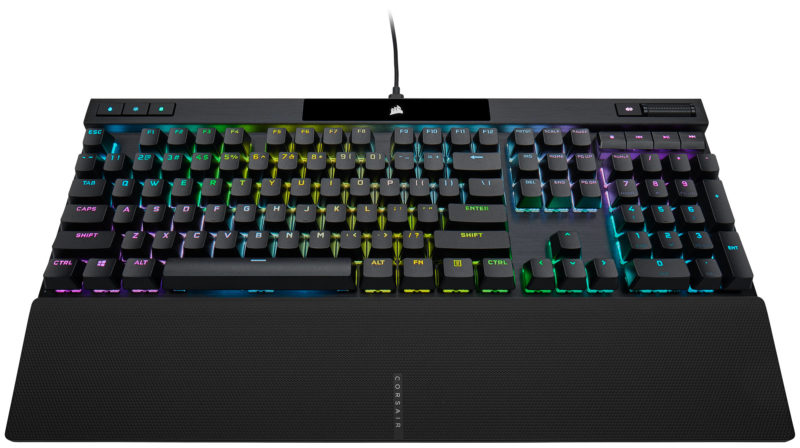 Corsair K70 RGB Pro
February 25, 2022
In February 2022, Corsair extended its K70 gaming series with another model: the Corsair K70 RGB Pro.
Gaming Keyboard with K70 Flair
The new Corsair K70 RGB Pro introduces several small updates while still strongly implementing the look and feel from previous K70 keyboards. The gaming keyboard in its brushed aluminum frame offers RGB lighting, programmable keys and macros, full n-key rollover, dedicated media controls, cable management and 8 MB on-board-storage to save up to 50 different profiles. Moreover, a wrist rest is included, it snaps into the keyboard with its magnetic attachment. The Corsair K70 RGB Pro is available with five different Cherry MX switch options (Blue, Brown, Red, Speed, Silent). However, not all options are available in all regions.
Corsair K70 RGB Pro – What is new?
The keyboard features a new tournament switch which can be used to switch to static lighting and disable all macros. Also, the fact, that the USB cable is now detachable, will be appreciated by esport athletes and travelling gamers. Additionally, Corsair upgraded the previous ABS keycaps to PBT doubleshot keycaps which resist wear and fading. Also worth noting is that the USB passthrough from its predecessor Corsair K70 RGB MK.2 apparently did not make the cut.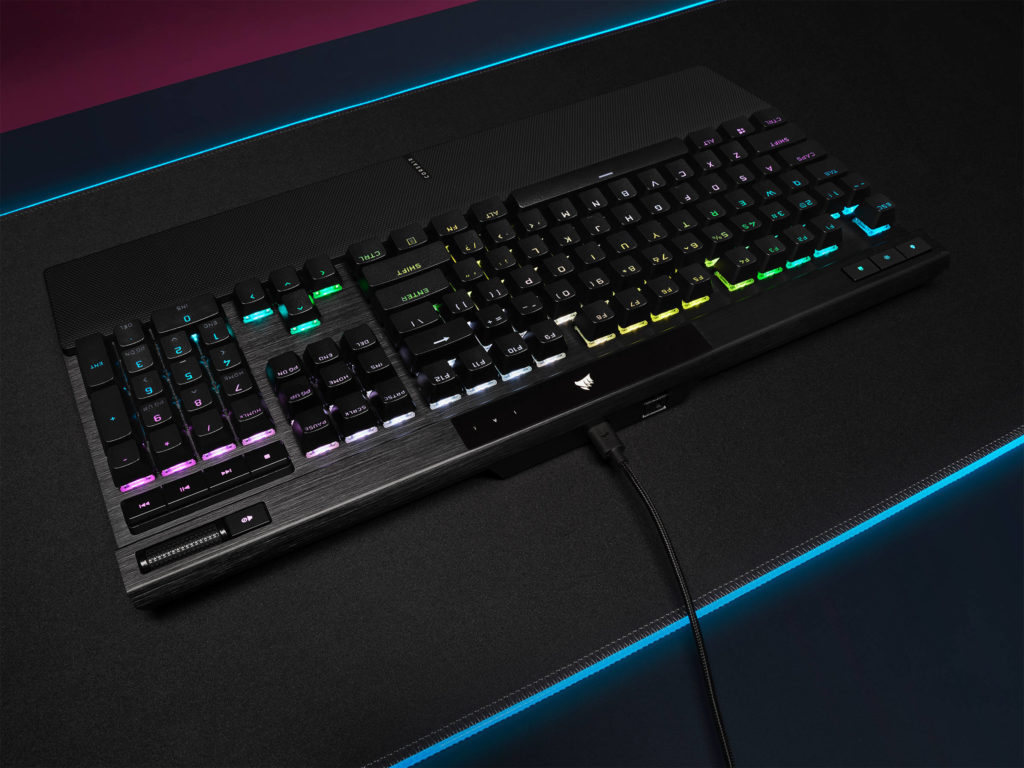 Comparison between Corsair K70 RGB TKL and Corsair K70 RGB Pro
In April 2021, the Corsair K70 RGB TKL introduced the tournament switch and PBT keycaps for the K70 series. With the K70 RGB Pro, Corsair now wrapped up a full-sized keyboard offering these features. Apart from the missing numpad in the TKL version, there are some other small differences between the two keyboards, for example the placement of multimedia controls. But for the most part, both keyboards are very similar. In order to make a buying decision, just ask yourself if you need a numpad. If that's the case, take the K70 RGB Pro, if not, take the cheaper K70 RGB TKL.
---
Tech Specs for
Corsair K70 RGB Pro
Dimensions:
444 x 166 x 40 mm
Macro Keys:
No macro keys
Media Keys:
Dedicated media controls
USB Passthrough:
No USB Passthrough
Switches:
Cherry MX Blue, Cherry MX Brown, Cherry MX Red, Cherry MX Silent Red, Cherry MX Speed
Keycaps:
Double-shot PBT keycaps
Extras:
With palm rest, fully programmable
Available since:
Feb. 2022
---
Mechanical Keyboard Score
The mechanical keyboard score is our overall score for a keyboard. The score is based on the available ratings and critics and makes an easy comparison between different mechanical keyboards possible. It is also used for our mechanical keyboard ranking.
---
Reviews
---
---
---
---
---
---